Built for the toughest jobs
Volkswagen Commercial Vehicles understands that time is money and your business needs a vehicle that you can rely on; a vehicle that can handle the pressures of doing business in the most flexible and economical way. By combining rugged versatility, cutting-edge engineering and a business-orientated approach, the new Crafter is the ultimate transport solution. Offering reliability, durability and adaptability all rolled into one package with the efficiency to match, the new Crafter is practically tailor-made for your requirements. Its robust nature can cope with the most taxing road conditions and the fuel-efficient, economically friendly TDI engine makes it perfectly suited to the transportation demands of the typical South African business.
Safety
Learn more about the most innovative and intuitive electronic safety features that come standard.
Convenience

Learn more about how this Volkswagen is specifically designed to adapt to your every day.
Innovative Technology
Stay right on the cutting-edge of the latest innovative technology and connect to new possibilities
The safest choice
Safety is of the utmost importance to Volkswagen Commercial Vehicles and that's why the new Crafter has been fitted with innovative safety features designed to deliver all-round protection. Essential safety systems such as ESP (Electronic Stabilisation Programme) combined with Brake Assist and Crosswind Assist, MCB (Multi-Collision Braking), TCS (Traction Control System), and EBD (Electronic Brake-force Distribution) are all standard in the Crafter. Whether you're moving people, cargo or both, the Crafter works hard to keep them safely and securely on the road with a driver and passenger airbag as standard, three-point seat belts, remote-controlled central locking and an optional anti-theft alarm.

The Crafter is fitted with a full metal partition without a window, which separates the cab from the freight in the load compartment. The load area of the Crafter has also been equipped with lashing eyes as standard so your load can be secured using tie-down belts. The lashing eyes have a strong retention force of 500daN(kgs). There are 10 lashing eyes in the medium wheelbase version of the Crafter, 12 lashing eyes in the long wheelbase and 14 standard lashing eyes in the long-wheelbase with extended rear overhang. Two of the foldable lashing eyes are located in the B-pillars.

The Crafter also offers handy driver assistance systems as optional. These include Park Assist and Trailer Assist, which automatically steer the Crafter to parallel park or reverse-park your trailer, and Park Distance Control with proximity sensors. With all of this at your disposal, buying the new Crafter is truly one of the safest decisions you can make.
Take it all the first time
Industrious and dependable, the new Crafter is your ultimate business partner. With its 75 litre fuel tank, sturdy frame and generous loading capacity, the Crafter will deliver no matter what. Boasting a loading capacity ranging between 10.7m3 and 17.5m3, the Crafter can handle any load thrown at it. With one of the longest loading spaces in its class of up to 4.6m, you'll never have to leave anything behind.

Loading and unloading from the back is made easy through two rear wing doors or through the left-hand side 1.3m wide sliding door. For even more convenience, a sliding door is optional for the right-hand side as well. The flexible and practical nature of the Crafter makes it suited to a variety of applications. With a payload capacity of up to 2.5 tons and torque of up to 340Nm, even the heaviest loads feel light.

The Crafter is available in a 3.5 ton GVM version and a 5 ton GVM version. Choose between two wheelbases - 3,640mm or 4,490mm - three body lengths and three different roof configurations. So no matter what your business or how tough the job, the new Crafter offers the perfect solution to meet your transportation requirements.
Built with perfection in mind
Attention has been given to every detail in the new Crafter to ensure the comfort and safety of the driver and passengers. The cab ergonomics have been enhanced to ensure higher levels of practicality and ease of use in order to support the crew in their challenging work day. Improvements include robust seat upholstery for durability, a revised instrument cluster and control panel as well as plenty of storage compartments for a professional workspace.

The cab climate is easily controlled with a fresh air ventilator including air recirculation and heating as standard. Other standard interior features include power steering, heat-insulating glass, electric windows, radio preparation and door pockets. Optional features include a radio/CD player, semi-automatic Climatic air conditioning system, front reading lights and cruise control. All of these features have been built into the Crafter for your comfort and convenience, which means that you'll be more productive and able to give your business all the attention it deserves.

Sporting the Volkswagen design DNA with its broader radiator grille, dominant headlight clusters and proud Volkswagen emblem – the new Crafter looks every part as professional as it performs.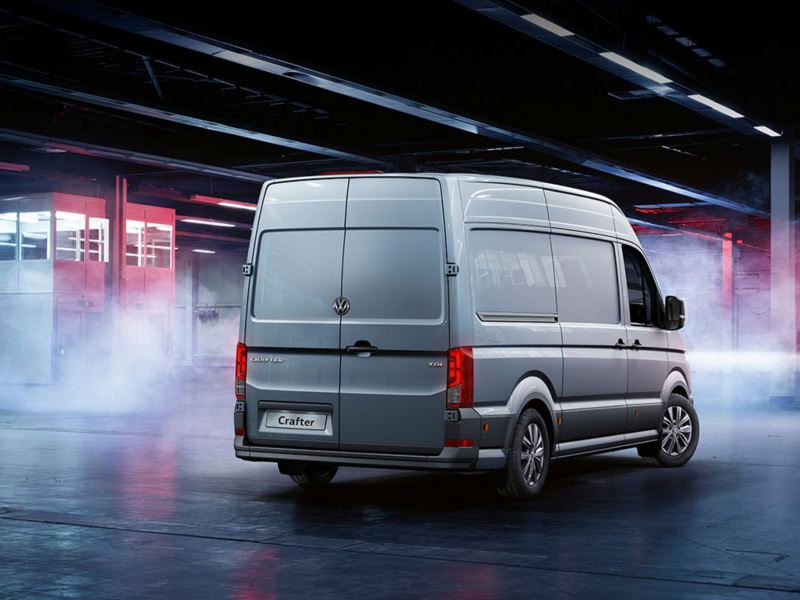 See the Crafter for yourself
See the Crafter for yourself
Your financial companion when buying a car