To celebrate over 40 years of the iconic GTI in South Africa, we collaborated with three local creators – DJ Ready D, local streetwear brand "Sol-Sol", and illustrator, Mpumelelo Bhengu, to immortalise these stories and create limited edition merch for you to win.

Read their stories to discover how their GTI connection with Hip Hop, fashion and street art culture. Find out how you can become part of the GTI legend.
International Award-winning DJ
 

Renowned South African Illustrator

Founder of Streetwear brand "Sol-Sol"
To celebrate the iconic GTI, our collaborators produced designs which are available for purchase on our VW Lifestyle shop. These include t-shirts, bucket hats, caps, socks and more.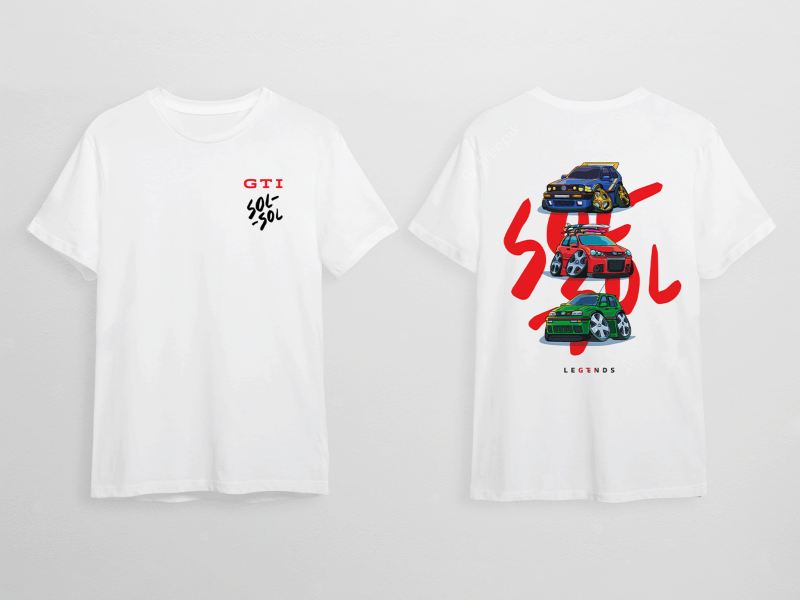 The #GTILegends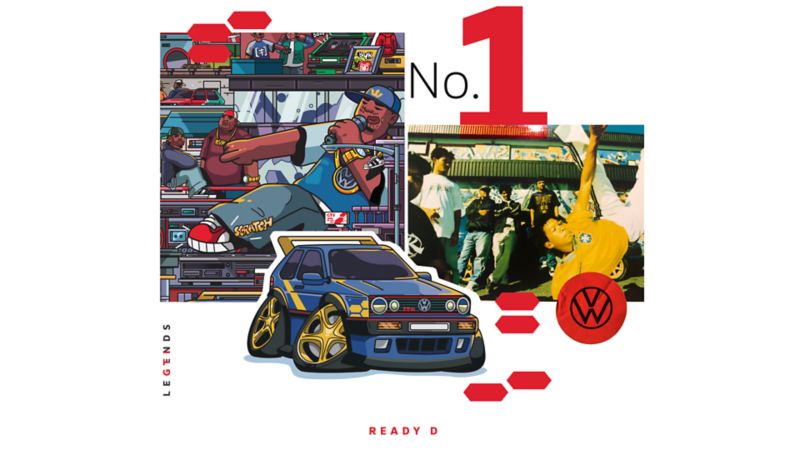 "Growing up, it was the GTI that ran the streets in my hood. Cars have always been entrenched in Hip Hop culture, which is why the GTI has always left a lasting impression on me. And in the summer of 1998, me and my BVK crew were cruising the streets in a blue GTI with yellow rims, dropping the beats of our single through the blaring sound system.

All eyes were on us. Little did we know that this was the birth of Hip Hop in SA. Never did we imagine our beats would break international boundaries and be heard across the globe, just like the thunderous sound of the legendary GTI can be heard revving through the streets of the Cape Flats.

From B-Boys hitting ice-cold freezes, to the late night meet ups where we'd enjoy Cape Town's finest gatsby off our warm car bonnets. This was where our legend started. Where timeless memories were created. Right here, on the streets, our passion for the culture fuelled and driven by another legend of the streets, the legendary GTI.

From one legend to another - GTI - I Salute You."
"It was around my artistic formative years in the late 90's-early 2000's. A time when I was missioning around Durban and marveling at the graffiti and street art around places like South beach. Hip Hop on Sony Discman CD player, fresh kicks as mode of transport.

This was also a time when democracy was still new and growing up in the south of Durban township, Umlazi, we started seeing more possibilities and developing new aspirations because more and more people who looked like us or from the township started to see more opportunities, be it corporate careers, sports or in the arts (music industry primarily).

Through the eyes of a young person, this was more evident by the clothes they wore and places they moved into, but to any kid in the township, having a car was the true definition of success and freedom. But not just any car, the Golf MK3 GTI was a legend that every kid wanted. Golf had always been the staple car in the township, but nothing said more about success and aspiration than a Golf GTI.

This was also a time when a sense of freedom to a teen, also just meant being able to have a set of wheels, cruise around, look for parties and street bashes.

Car culture is embedded in the township context. From the 6x9s, slick mags, and ear deadening revving of engines. The GTI stood out cause it was synonymous with a certain kind of swag. Always slick, clean, bumping the latest Kwaito tracks and always associated with a jol. Whether it was at a Carwash or at a shisanyama, GTI went hand in hand with everything stylish, cool and aspirational to kids at the time, and still to this day.

In the Township, GTI has always been about celebrating the good life, style, success, possibility and most importantly - freedom and aspiration for every kid with a dream.

It was a legend that inspired us all to create our own legends."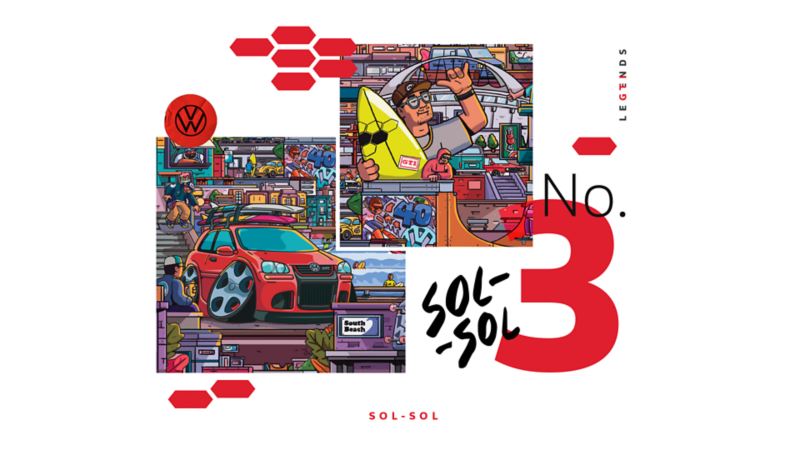 "It was the early 2000s. I never had a set of wheels, but that was never a problem.

All my friends had Golfs; all of them. Those days, life meant nothing but surfing, skating staying out late, and all the things Durban Beachfront had on offer. Each time we'd chip in for petrol and cruise around in a different ride; whoever's turn it was to drive that day. There were three white ones, a red one, a custom purple one, sometimes one friend even brought his mom's yellow one. None of them were as flashy or fast as the GTIs down by Blue Lagoon that would come past and flex on us, but they were ours.

We were always on a mission to own the day our way. We'd hang out in the parking lot, head down the coast to catch some of KZN's most perfect waves, then head down to Johnny's Roti's to grab some chow. There, the GTIs were on full display. I just loved how the GTI took on different forms. People would customize and make them theirs. From the engines and decals to the dropped suspension and beats coming from the speakers. It's essence of fashion on 4 wheels.

These were all elements that somewhat inspired the super-chilled and laid-back feel that comes across in the tone of my fashion.

Legendary times, in the company of a legend worthy of paying homage to."
My passion for VW started at a young age all because of my parents. They've only owned Volkswagens, from a Fox to a Tiguan, Golfs, Jetta and Polos.

My first love for GTI began when the Sunday Times printed a poster of the Golf 5 GTI #GTILegends. It was a red one with alloy wheels and the iconic honeycomb grille. It was the only car that made a feature on my wall as a poster (I must have been 11 at the time).

There were many supercar posters in the Sunday Times newspaper at the time but they just didn't make the cut for a feature on my bedroom wall. Since then, I have been a GTI fanatic. Every time I see any GTI on the road I always take notice. I love them all. I never expected the GTI to become the South African icon that it's rightfully become. And that's exactly what the GTI is, an icon. A dream. A love story. A legend.

I got a VW MK2 GTI as my 1st car in 2013 and I still have it. I also own a Golf 7 GTI. Every time I'm in either of them it's with a huge smile. My dad has the Golf 8 GTI. All our Golfs are legends in their own right. For me, the GTI is more than a car, it's a way of life.

 

 @Kayde_Pillay 

The GTI was responsible for my first heartbreak! #GTILegends

It was the 'Three Yards' weekend in Pitori (Pretoria). My boys and I were in the streets. We didn't have cars, we were pedestrians. Next thing, we come across the girl who was meant to be my girlfriend riding with her friends in a fresh, Golf 5 GTI. Oh, the damage. 

 

 @itskeitumetse 

Growing up, my neighbour had the Golf 6 GTI Edition 35 with suede seats. Every Sunday, he'd wash his GTI, and on some of those days, he'd take me with him to get ice cream, that's when I fell in love with this hot hatch.

That's when it became a #GTILegends, even though it wasn't my car yet. These days, I barely see it on the roads, and that's the reason for this picture which I simply had to post - it's my hero, man.

Also, did you know that the Golf 6 GTI Edition 35 was built to celebrate 35 years of the #GTILegends? They kitted it with a Golf 6 R engine making it more powerful and faster than the original 'Bam Jaive'.

 

 @OtlotlengMolamu
When I was younger, my father owned the GTI MK2 JUMBO in a Stratos blue, sported with a set of CTI Mushrooms because he didn't like the rib cage wheels the car came with. When it arrived home, I knew then that it would be my first car and that I'd keep it until the end. The car was a weekend car and we'd always look forward to the weekend because we would be driving in the GTI. Years went by and the K Jet Tronic systems started giving issues so my dad decided to sell it. I will never forget the day when a lady came to fetch it for 45K. I've always wanted the MK2 in blue. 

In 2009, I graduated to a panther black 2008 VW VV MK5 GTI. It was a 6 Speed Manual and I adored it until the end because it wasn't a traditional hatch. It was more performance orientated with a modern comfortable interior. It was a game changer. #GTILegends
I love it! My dad built his GTI from a shell. I used to pass them the tools and engineer the assembling. I was even the 'human demystifier' with my hand and cloth on our first spin around the local town, Howick. It was raining heavily that day so I had to wipe the windscreen from the inside so my father could see the road. Those were the carburettor days - noisy and quite rugged. Don't forget, there was no power steering on the wheel in those days either, so, my dad's arms were built like a coloured Hulk Hogan. #GTILegends

It all started in 2003 when my dad bought me a little white CITI to use for varsity. It was a fly little ride with a tartan interior, CD player, a red rim detail around the grille and a few aesthetic mods that made it look really cute. The car was neat but it had its shortcomings – it didn't have a sound system. I nagged my father. He listened to my cries then cut up some old BnO speakers and installed them for me in the car so I could listen to my beats. Sometimes, the water tank would lose pressure, I would carry a 2-litre bottle of water in my boot just in case. At the time, many people's first cars had this similar issue so I didn't feel so embarrassed. I would wash the car every Friday along with my Converse All Stars and Adidas sneakers. I used to call it, 'Lover', because anyone who took a ride in it would fall in love with it. One fateful day in 2011, I was involved in a near-fatal car accident and my little 'Lover' saved my life but was left as a mangled mess on the road in the process. Fast forward to today, there's a pearly white Gold 7 GTI in my garage. On many occasions, people don't identify me as the owner because their minds can't compute that a woman could appreciate a car like that. My GTI is an extension of me and stepping into the driver's seat is like wearing a glove – it's a perfect fit. I still wash and wax my car and treat it with love because once a 'Lover', always a lover. And I know how to drive her - Vrrrrrrr Pha. #GTILegends

In the early 90s, my father owned a GTI MK 2 16V. We moved from Durban to Cape Town and I'm quite certain we were the only ones in the Cape Flats with that car at the time. I remember going to the pavilion on a Friday night to watch drag racing and all the Toyota, Ford and Nissan guys would vloek us about how weak GTIs were but at the same all wanted to challenge us to race. I loved that car but the family grew and my dad had to ultimately let go of his GTI. The funny thing is I never could quite understand why the 'grown' man that bought it from my dad wore a school bag with a GTI zip.
22 years ago, my Volkswagen 16V, toured South Africa flat out for at least 10 times, and over 300 000km. We even had my daughter build a snowman on it  

#GTILegends

I've been a VW nutter for as long as I remember. I'll never forget the first time I saw my cousin's friend's (Nikola Karkoulias) MK2 Golf GTI 16V Exec for the first time around 1991. That's probably when the VW bug bit me! A few years ago, I even did an illustration study of all the MK1 models (even most of the CITI models). Here is the GTI 4 x door below #GTILegends Volkswagen

Rayaan on Twitter: "From drawing them in the back of our homework book, saving the centre posters as our wallpapers. Growing up, all we wanted to do was own them... look at us now #GTILegends @VolkswagenSA https://t.co/DpbbdEljgc" / Twitter

From drawing them in the back of our homework book, saving the centre posters as our wallpapers. Growing up, all we wanted to do was own them... look at us now #GTILegends
Mk1. Bought my GTI in 1985. It was a 1984 model, which had the original Oettinger conversation. From what I understand, it was one of three imported in late 1984. 

It was for the 2003 Golf GTI that I (for the first time ever) stopped and simply stared in awe at the beauty of a car parked on the street. There has never been a more beautiful and graceful automobile. It screams speed even when standing still, even better, it says it with elegance. 

I started off with the 1st VW, the legendary MK1 Citi Rox, my pride and joy for 12 years, in the time, I always knew I needed a GTI, so bought a Polo GTI with the bullet proof 1.8T - This kick started a new thing in my life, never to be without a GTI again. Time went on, and I replaced the Polo with another legend I presently still own - the MK5 GTI. It's definitely a beast on its own. GTIs are made for memories, and so much good times in them all.

#GTILegends #mk5 #mk1 #gti #volkswagen

In the 90's as a kid, we'd go to church as a family on Sundays. I believe that was for blessings and protection. After church, my bro would pick me up in my dad's MK2 16V legend would be put to the test. I was always planted in the passenger seat, full of smiles... I could almost see heaven.
In 1974, a successor to the Volkswagen Beetle was born, the Golf. It became a legend and Germany became football's champion for the second time. #GTILEGENDS