The moment you set eyes on Polo, you'll see that every inch has been carefully considered to bring you a vehicle with charisma at every curve. From front to back, Polo features a masculine arrow-shaped tornado line. This distinct new design line cuts a dash along the side of the car, from the indicators all the way to the rear lights. This structures the car's side profile, forming a strong shoulder section that gives Polo a bolder presence than before. The chrome trim and dark red tail lights in the bumper underline its sporty and elegant appearance, accentuating Polo's key characteristics. With its contemporary design, Polo will inspire you to go from the dull, grey office rug to Hollywood's red carpet.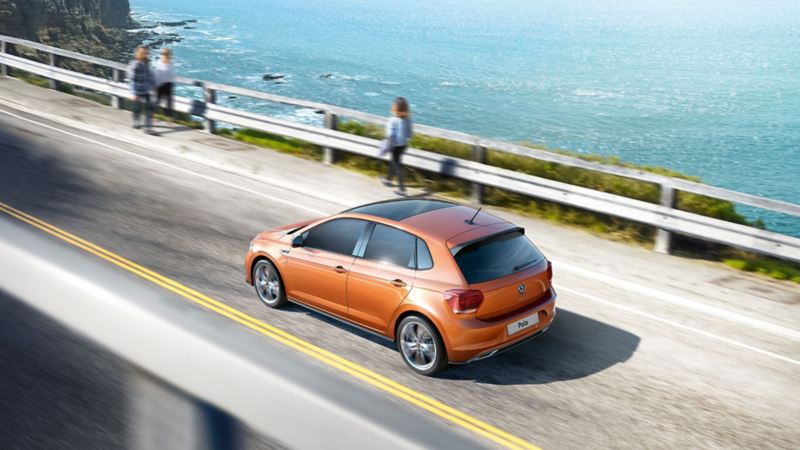 Innovative Technology
Connect to the future with Volkswagen's innovative features. 
Safety  

Discover the latest Volkswagen intuitive safety and technology features designed with you in mind. 
Comfort
Discover how this Volkswagen can drive you beyond your comfort zone without ever compromising on elegance. 
Polo boasts an incredible array of safety features, raising the segment to a whole new level.
The optional rear-view camera allows any obstacles behind Polo - even moving ones – to be more visible, making reversing safer and easier thanks to unmatched technology built into the boot.
Polo's Park Distance Control with Manoeuvre Braking constantly monitors the distance around Polo and automatically activates the brakes if it is approaching a stationary vehicle while manoeuvering.
Optional Blind Spot Detection sees what you don't; helping you avoid objects outside of your line of sight.
LED daytime running lights comes standard in Polo, with optional LED headlights that feature larger light volume, longer durability and daylight-like light spectrum with a lower energy requirement, giving Polo the ability to see and be seen more by other vehicles.
A driver display, just the way you want it