VWSA gains momentum with transformation in supply chain
VWSA gains momentum with transformation in supply chain
MCR Plastics developed as supplier to VWSA through B-BBEE Initiatives Trust

The Kariega company supplies parts for the popular VW Polo since 2022
Kariega – Through the ongoing support of Volkswagen's B-BBEE Initiatives Trust, a former employee of Volkswagen Group South Africa (VWSA) was able to realise his dream of becoming a business owner – and a supplier to his former employer.

Morgan Waterboer, co-owner and managing director of MCR Plastics, has received support from the B-BBEE Initiatives Trust as well as VWSA's involvement in the Automotive Industry Transformation Fund (AITF) Equity Equivalent Programme, in the time since he started his Kariega-based business in 2019.

"I worked for VWSA from 2002, in the Quality Assurance division, but almost 17 years later I saw a gap in the market," said Morgan, whose injection moulding company started supplying door covers and a fuel filler module for the popular Polo built at VWSA's Kariega plant in 2022.

Morgan runs his company alongside his wife Edwina, who has been handling the finances and is currently running the HR function. "We are a small team, with four permanent employees and one consultant on board," said Edwina.

MCR Plastics received bridging finance of R7,5 million from the B-BBEE Initiatives Trust when the company was just starting up, said Morgan. "Their support has been great and it has enabled us to grow. It's not easy to start a business, but the support was very comprehensive. VWSA's excellent team also supported us in getting the necessary processes in place."

Through the AITF programme, they also received funding and assistance with certifications, and were invited to SA Auto Week in 2022, where they could interact with stakeholders across the industry.

"Since 1996 I have dreamed of being a business owner," said Morgan. "My proudest moment was when we loaded the truck with our very first delivery; that was a happy day for me."

"We've always been Volkswagen fans," added Edwina. "We are grateful for them believing in us and helping to grow our business, which they are still doing. It's a blessing to see how the company is growing."

The Trust was formed by VWSA in 2016 with the mandate of driving transformation in the South African automotive industry by investing in black-owned suppliers and offering post-investment support to these companies. VWSA has also been involved in the AITF – an organisation working with South Africa's OEMs towards transformation in the supply chain and dealer network – since 2020.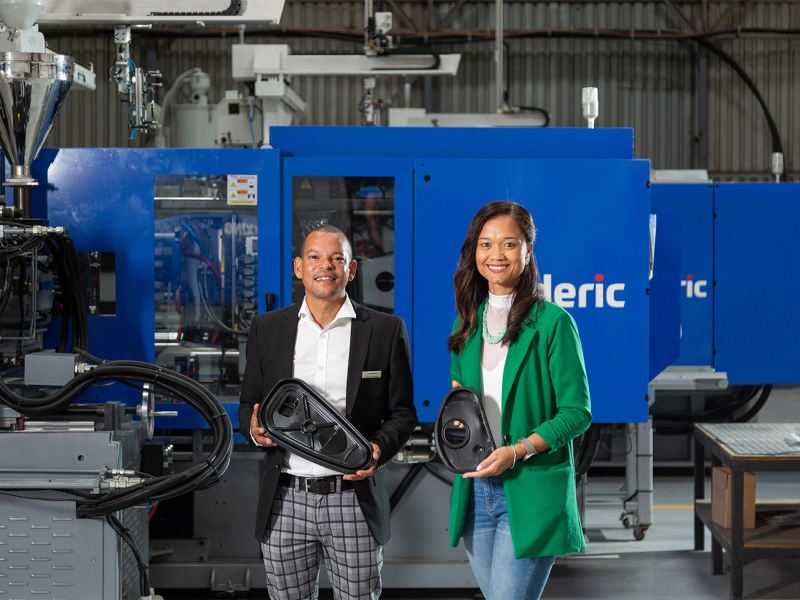 "The support to MCR Plastics served as a valuable case study between the Volkswagen's B-BBEE Initiatives Trust and the AITF, resulting in close collaboration between the entities to provide a solution that was customer-focused, and ensured that the timing prescribed by VWSA was met," said Neeraj Kessery, CEO of the B-BBEE Initiatives Trust. "The funding provided, increased employment and turnover, proving that the business is scalable and ready to attract new clients. The Volkswagen B-BBEE Initiatives Trust is proud to be affiliated to MCR Plastics as a black-owned and -managed Tier I supplier in the local automotive industry."

"Transformation remains a key goal in the automotive industry, and it is a goal we can only achieve through partnerships and active participation," said Nonkqubela Maliza, Director of Corporate and Government Affairs at VWSA. "Our support of MCR Plastics is just one example of the success we can achieve by collaborating as an industry to develop black-owned businesses in the automotive value chain. I am proud that we are able to empower business owners through these programmes."