VW's popular ID. Buzz Gets a Scooby-Doo Makeover!     

VW's popular ID. Buzz Gets a Scooby-Doo Makeover!     

First aired in September 1969, the animated television series, Scooby-Doo, Where Are You!, introduced audiences young and old to the characters of Fed, Daphne, Velma and Shaggy who together with their dog, Scooby, formed Mystery Inc., an outfit that sought to solve various crimes perpetrated by villains disguised as ghosts and ghouls. In this popular series, our team of young detectives travelled in a brightly coloured van dubbed Mystery Machine.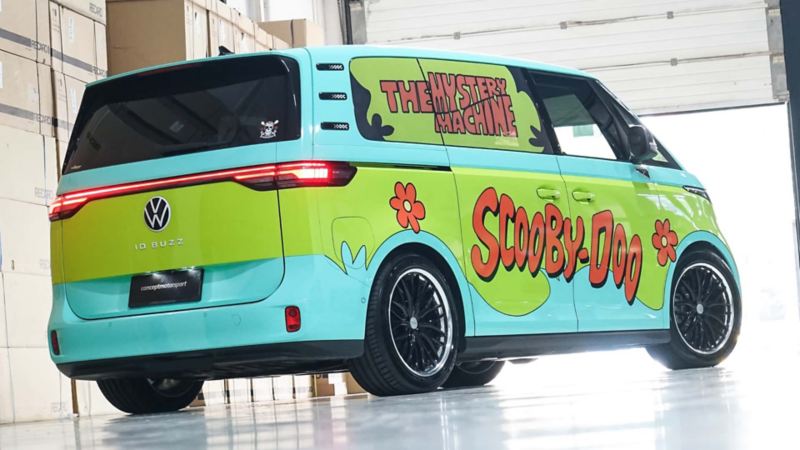 While speculation remains as to what real-life van inspired the Mystery Machine that featured in the animated series, some believe that this vehicle's bohemian colour scheme and hippie-era character were modelled on the original Volkswagen Transporter.
Created by Concept Motorsport in Indonesia, the spiritual successor to the VW Transporter, the all-electric ID. Buzz has been transformed into a modern-day, zero-emissions Mystery Machine via an intricate vehicle wrap that pays homage to the show, as well as a reworked suspension.
The work of TeckWrap, the ID. Buzz-based Mystery Machine features a brightly coloured exterior design that mimics the look of the original cartoon-based van. In its modern application, portraits of each member of Mystery Inc. can also be seen on the vehicle's profile. 
Adding presence and stance to this creation is an aftermarket suspension upgrade bound to create intrigue and interest from other customising houses in markets where the ID. Buzz is touted to be introduced, including South Africa. 
For this application, Concept Motorsport has installed a set of adjustable KW V3 coilovers and bespoke alloy wheels that feature black spokes and chrome barrels.
Introduced in 2022, the ID. Buzz is built on Volkswagen's dedicated battery electric MEB architecture and features design and interior styling cues that hark back to the brand's hugely popular Transporter series that spawned such local favourites as Kombi and Caravelle. Having quickly established itself as one of VW's best-selling all-electric products, the brand is set to build up to 44 000 units of its new family transporter in 2023 alone to keep up with demand.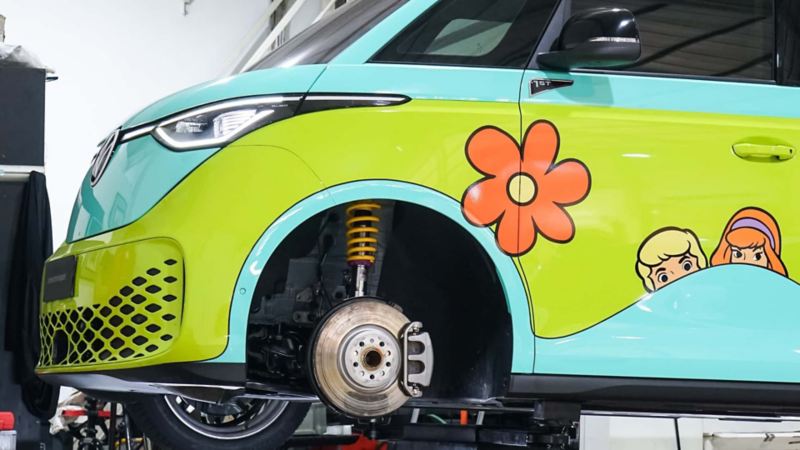 While a new long-wheelbase version of the ID. Buzz has just been introduced to the US market – where it'll no doubt bring back fond, if slightly hazy memories of California cruising – Volkswagen South Africa is set to trial four examples of this exciting product with logistics powerhouse DHL. The local office of Volkswagen will use this and other scheduled test drive plans with the ID.4 to finalise plans to introduce a portfolio of modern all-electric products into South Africa.