Volkswagen

 teases its forthcoming ID.7 sedan at the 2023 CES
Volkswagen

 teases its forthcoming ID.7 sedan at the 2023 CES
Hosted annually in the US since 1967, CES (Consumer Electronics Show) has established itself as the pinnacle event for those with a keen eye on what the future of electronics holds. While the inaugural show introduced to the world the concept of a television with integrated circuits, in subsequent years everything from the VCR to the compact disc player and any number of new mobile phone designs, gaming console systems and most significant computer programs have been unveiled at CES.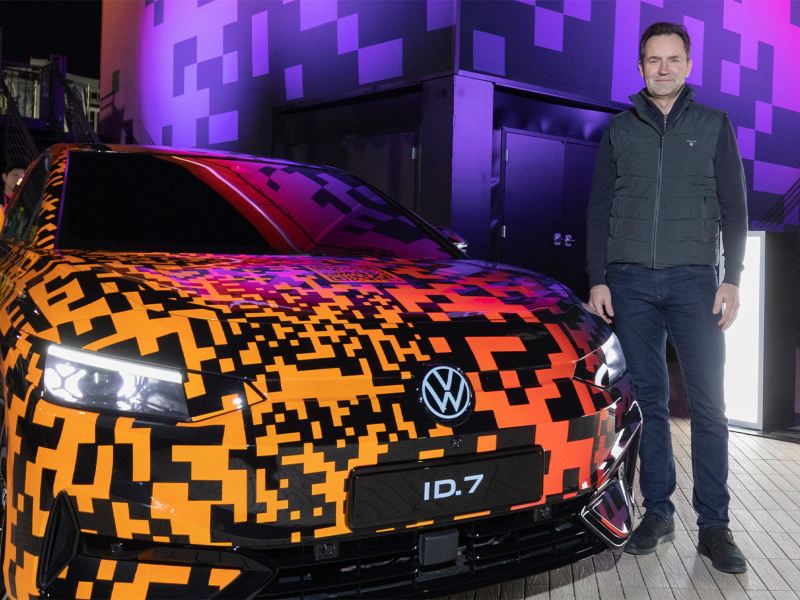 With the future of motoring inextricably linked with advancements in electronics, CES has quickly established itself as a key engagement on the annual calendar for many automotive brands.

A keen participant since 2015, Volkswagen has used the occasion of CES to introduce such innovations as gesture-controlled driving in form of the Golf R Touch concept, early ideas around augmented reality-linked infotainment systems and, in 2018, it arguably stole the show with the reveal of the ID. Buzz, the rebirth of the brand's iconic Transporter.

CEO of Volkswagen Passenger Cars, Thomas Schäfer, was on hand at CES 2023 to tease the newest member of the brand's ID. family. Dubbed ID.7, this all-electric executive sedan took to the stage boasting a so-called smart camouflage of intricately painted, colour-changing exterior panels. Clothed in 22 sections of paint, each with 40 individual layers of paint and electronics, the show car's luminescent exterior can be customised to suit the prevailing mood of its owner or, indeed, synced with the vehicle's audio system to "keep the beat".

"With the new ID.7, we are extending our electric model range into the upper segments. The sedan will offer top-class technology and quality," said Schäfer. "The ID.7 is one of ten new electric models that we are planning to launch by 2026. Our goal? To deliver suitable products for our customers in every single segment."

With the final product set to be revealed in the second quarter of 2023, highlights of the ID.7's interior include intelligent climate control technology, a 15-inch touchscreen infotainment screen and augmented reality head-up display.

Based on Volkswagen's innovative MEB platform, the ID.7 will offer an all-electric range of up to 700 km.