Volkswagen

heritage sublimely preserved

Volkswagen

heritage sublimely preserved

Volkswagen

AutoPavilion a popular tourist attraction

Classic

Volkswagen

vehicles displayed
Kariega – For more than 70 years Volkswagen vehicles have traversed the roads of South Africa and have become one of the most loved vehicle brands in the country.
Its heritage remains proudly preserved at the Volkswagen AutoPavilion in Kariega. This quaint town, formally known as Uitenhage, is the second oldest town in the Eastern Cape and is home to Volkswagen Group South Africa's (VWSA) manufacturing plant where the first Volkswagen Beetle rolled off the production line at the end of August 1951.
More than 40 classics are displayed inside the AutoPavilion museum amongst which the oldest is a 1938 DKW F5 Reichklasse.
The Volkswagen AutoPavilion is open to the public and offers plant tours where visitors have the opportunity to experience the production of two of South Africa's most popular vehicles, the Polo and the Polo Vivo.
Open five days a week, the Volkswagen AutoPavilion has welcomed more than 14 000 visitors this year (as at the end of August).
Andile Dlamini, Head of VWSA Communications, said visitors come from across the country to view the museum and to experience the motoring entertainment on offer at the AutoPavilion.
"The museum is dedicated to preserving and showcasing an impressive array of our classic and iconic cars which were assembled at our Kariega plant in the past seven decades.  Many young children and school groups visit our facility to learn about the evolution of the automotive industry," said Dlamini.
He added that visitors to the AutoPavilion also gain insight into the craftsmanship and engineering behind these remarkable vehicles and learn about the contribution of Volkswagen to the local automotive industry.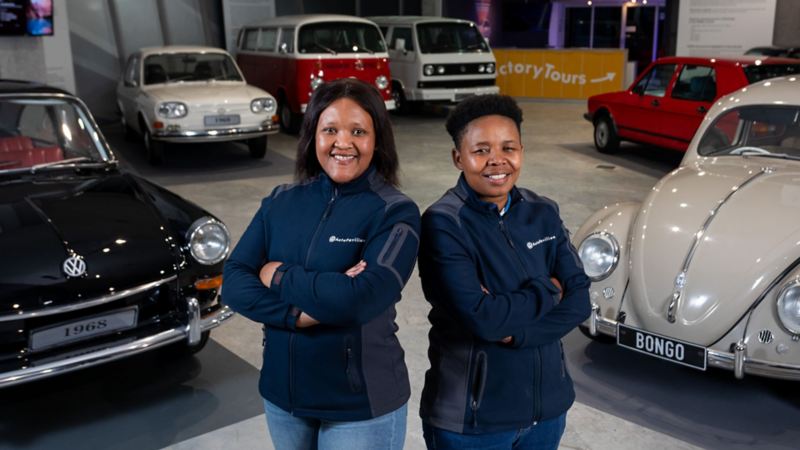 Caption:
Captured amid some of the iconic classics are Siphokazi Wonci, VWSA plant tour guide (left) and Nelisa Winti, Volkswagen AutoPavilion administrator.