Volkswagen

pioneering more sustainable battery cell manufacturing processes for ID. range

Volkswagen

pioneering more sustainable battery cell manufacturing processes for ID. range

As the Volkswagen Group sets about achieving its stated goal of steadily replacing its current portfolio of internal combustion engine vehicles with an all-new, comprehensive range of all-electric ID.-branded products, together with the development of bespoke architecture and charging solutions, this leading German mobility brand is also focusing on more sustainable and cost-effective ways of building the battery units required for such a large-scale undertaking.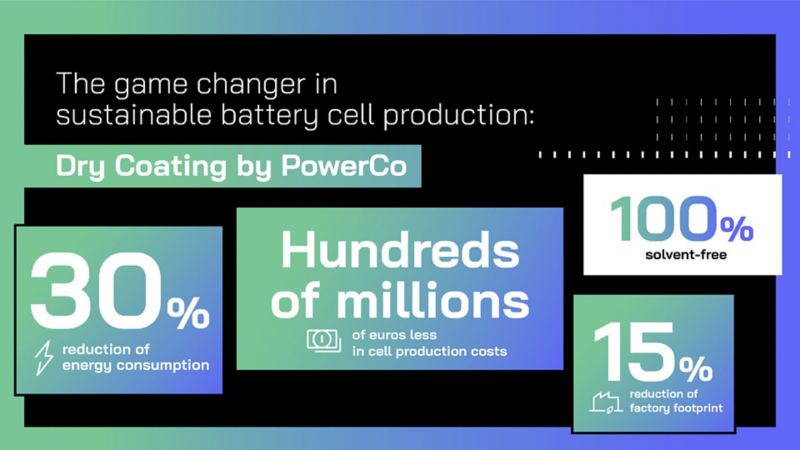 The most energy-intensive process of battery cell manufacture, currently, the production of battery electrodes requires four crucial steps; Firstly, the requisite materials are mixed using a solvent into a wet paste. This product is subsequently coated onto a thin layer of foil before needing to be dried. The dried sheet is then subject to a process of calendaring, or compacting, like how a printing press works. 
Via its subsidiary PowerCo, and partnering with German printing specialists Koenig & Bauer AG, Volkswagen Group is leading the way in terms of upscaling a new dry coating process for the manufacture of battery cell technology that could realise a significant reduction in the amount of energy that this procedure currently requires, but also a noteworthy financial saving that the brand aims to transfer onto its customer. 
With a view to introducing the process on an industrial scale into its manufacturing facilities in Europe and North America, this so-called dry coating battery electrode production process instead mixes the base materials using a powdery, solvent-free material mix that is then applied directly onto the foil via the "printing" press. This, in turn, eliminates the need to apply a still-wet paste onto a foil carrier, as well as the lengthy – and costly – drying process.
The forecast is that by incorporating this new dry coating process within its battery cell production process, Volkswagen Group could realise up to 30% savings in energy consumption while freeing up around 15% of manufacturing floor space within its respective facilities.