Volkswagen

employees roll up their sleeves at frail care centre 

Volkswagen

employees roll up their sleeves at frail care centre 

 Giving back shows commitment to the community

Inspired to make a meaningful contribution to society 
Kariega – In honour of Mandela Day, more than 200 hundred Volkswagen Group South Africa (VWSA) employees and their loved ones converged at the Gelvan Park Frail Aged Home in Gqeberha's northern areas at the weekend to spruce up the frail care facility.
The volunteers painted the exterior walls of the building, created colourful murals and artwork and cleaned up the garden, while the VWSA corporate wellbeing team offered medical check-ups to the residents. 
Gelvan Park Frail Aged Home accommodates 100 frail residents from disadvantaged communities. The facility, which was established in 1979, is one of the largest frail institutions in the Eastern Cape. Besides a government subsidy of R2 000 per resident, no funding is received for maintenance.  Volkswagen Community Trust Manager, Vernon Naidoo, said the non-profit organisation (NPO) was selected based on its dire needs after a due diligence study was conducted. "We realised that this was one of a few facilities that accommodates frail older persons from impoverished communities. And with our focus on health, community and wellbeing, our involvement in this project helps to improve the quality of life of older persons," said Naidoo.   
Leading up to Mandela Day VWSA's maintenance contractor identified all the areas of the facility that needed repair. Employees and their loved ones painted exterior walls, cleaned the garden and crafted bright murals and artwork, creating a pleasant and soothing ambiance.
The employee volunteerism programme, called Show of Hands, provides an opportunity for employees to participate in initiatives which the company supports. "Through this collaborative endeavour employees and their loved ones not only positively impact the lives of those they serve, but also create a bond rooted in compassion and the desire to create a better world," said Nonkqubela Maliza, VWSA Corporate Affairs and Government Director
Maliza's sentiments were echoed by Martina Biene, Chairperson and Managing Director of VWSA who formed part of the gardening team. "We care about the communities in which we operate and where our employees live. We are committed to restoring the dignity and supporting especially the vulnerable in our communities," said Biene. 
This Show of Hands initiative is one of many projects which VWSA runs in the community. Later in July, the Gauteng-based employees will participate in a similar initiative at an early learning centre.
Nelson Mandela said: "There can be no greater gift than that of giving one's time and energy to help others without expecting anything in return."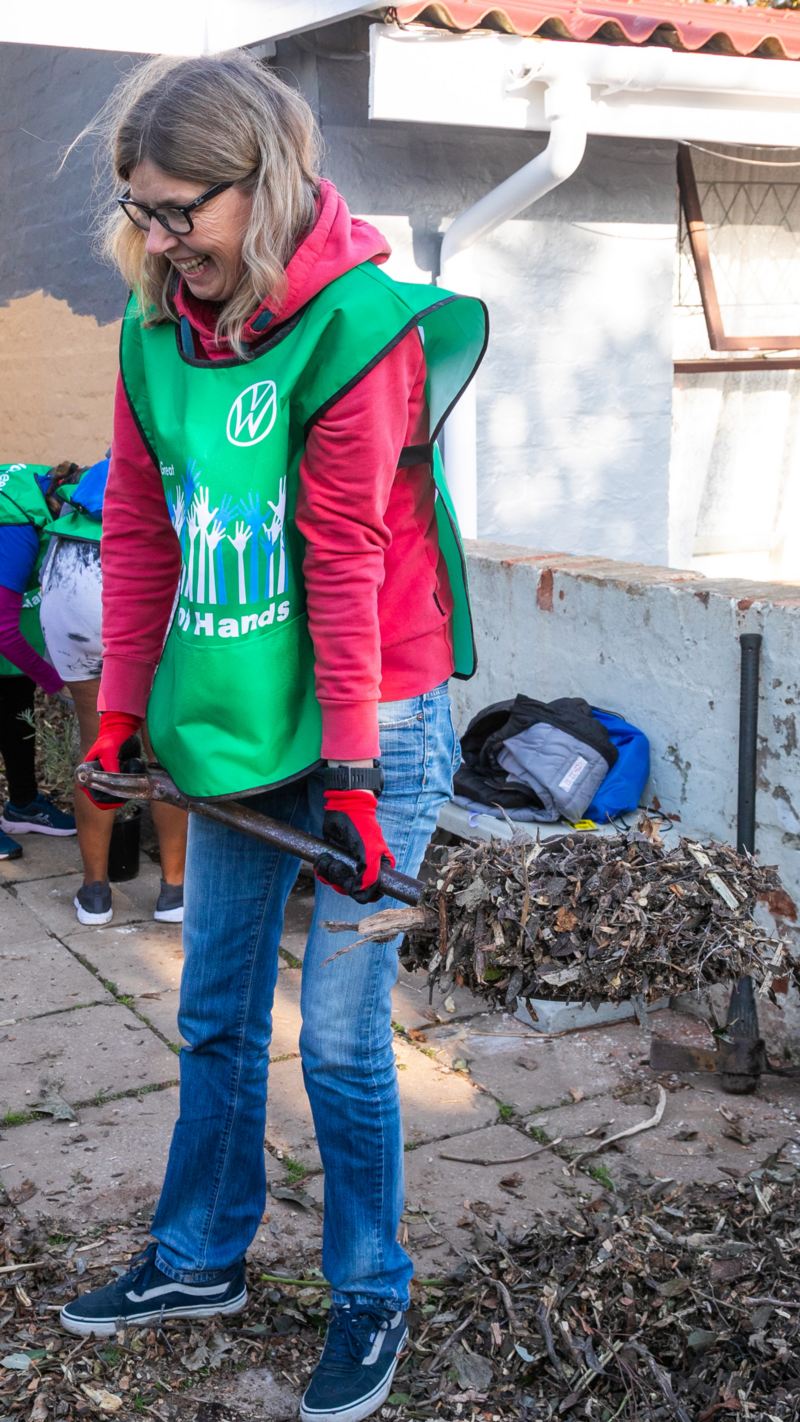 Caption:
Photo 1: The VWSA volunteer group
Photo 2:  Volunteers make their creative mark 
Photo 3: VWA Chairperson and MD, Martina Biene