Take the long
route in your
new Touareg.
Take the long
route in your
new Touareg.
The ultimate nature lovers' South African road trip
So you've just bought your new VW Touareg and you are ready to spend some serious family vacation time in it, seeing the best sights that South Africa has to offer. Except you don't quite know where to start. Don't worry; we've got you. We've zigzagged the country on your behalf, this is our list of top go-to destinations – in no particular order. From the coast to the mountain ranges, take a deep breath and let your Touareg do all the hard work.
Kirstenbosch Botanical Garden
It would be almost impossible to reach a consensus as to what South Africa's most beautiful sights are, what we do know however is that Kirstenbosch Botanical Garden cannot go without mention. Said to be one of the most beautiful botanical gardens in the world, it rests on the slopes of Table Mountain in the Western Cape, conserving some of southern Africa's most exquisite and diverse ecosystems. You won't get to take your Touareg off-road but you can be sure you won't struggle winding up any of the surrounding mountain passes. With breath-taking views from every angle, you won't be disappointed by this natural World Heritage Site.
Augrabies Falls National Park
A more remote location which lies deeper into the South African interior - where the Northern Cape heat can also be quelled by the Touareg's amazing Climatronic air-conditioner. On the border of Namibia outside of Upington, lies the most spectacular section of the Orange River. The Augrabies Waterfall drops 56m into a magnificent Orange River Gorge. The 50 000ha surrounding landscape is dry and rocky and filled with scenic viewpoints and hiking trails. With such extreme temperature changes, the hardy local flora and fauna consist of aloes, quiver trees, Camel thorn, black eagles, African wild cats, bat-eared foxes, free-tailed bats, leopards, antelopes and giraffes.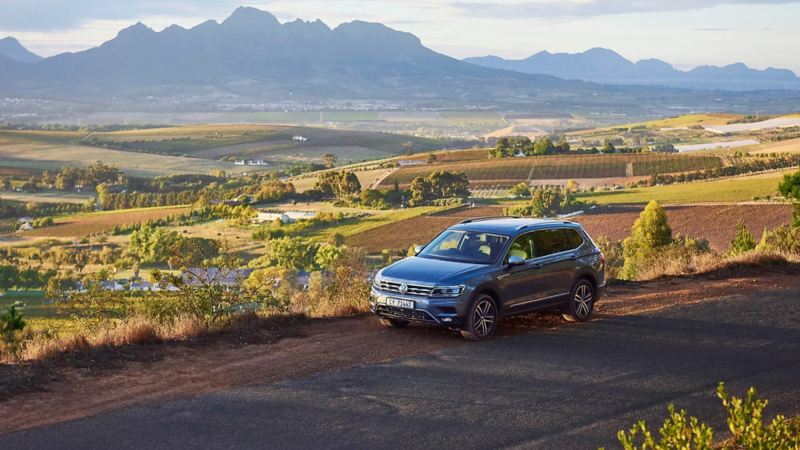 Golden Gate National Park
On the foothills of the Maluti Mountains are the incredible and unique 200 million-year-old rock formations which are synonymous with the Golden Gate Highlands National Park. Only 320km from Johannesburg you can expect tarred roads throughout. The national park itself is home to a game drive, golf course, a shooting range, white water rafting, quad and motorbike trails, zip lining, fly fishing and even snowboarding and skiing in winter.

Sani Pass
Ideal for your new 4x4, the Sani Pass is a winding 9km route which stretches from the Underberg in Kwazulu-Natal to Mokhotlong in Lesotho. By 2019 the road is expected to be tarred but until then the combination of steep gradient, gravel and poor traction have given the Sani Pass a reputation as one of the most testing mountain passes in the world. For now, the route can only be traversed by 4x4 vehicles but soon enough more drivers will be able to climb the pass 1332 vertical meters from 1544m to an altitude of 2876m.

Hole in the Wall
Although known for being bumpy and pothole-filled, a route less testing can be taken through the Eastern Cape. The Wild Coast yields a cornucopia of outstanding views of mountains, rivers and the ocean. The untouched coastline lends itself to hikes, fishing, birdwatching or simply soaking in some sun. The surrounding landscape can be described as coastal forest, open grassland and rocky coastline. Right next to the coastal village of Hole in the Wall is Coffee Bay which is equally unmissable.

The South African landscape is just waiting for you to take a leisurely drive through it in your Touareg. Now that you have a few ideas for your next road trip, you will either need to get your hands on the new Touareg or give your darling luxury SUV a pre road trip service and inspection.