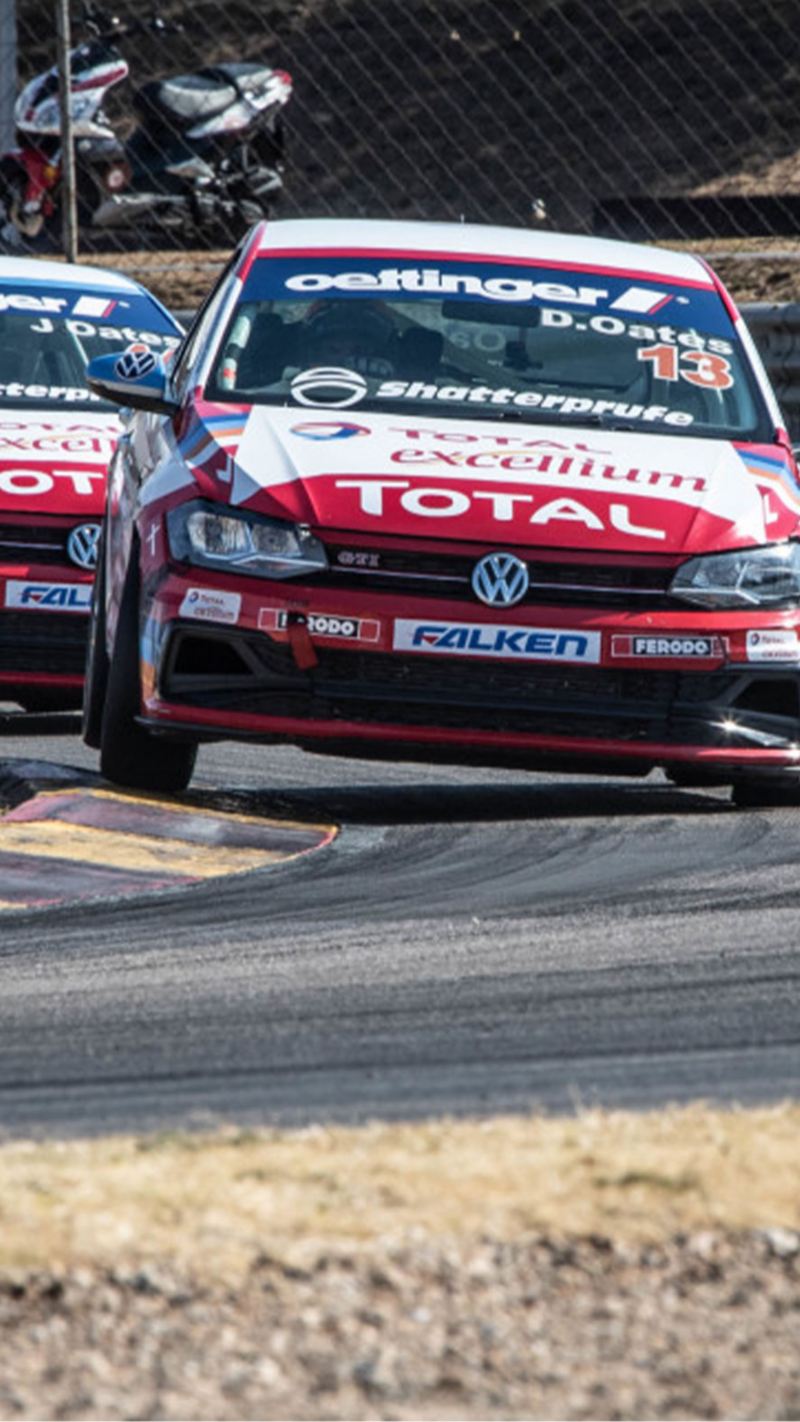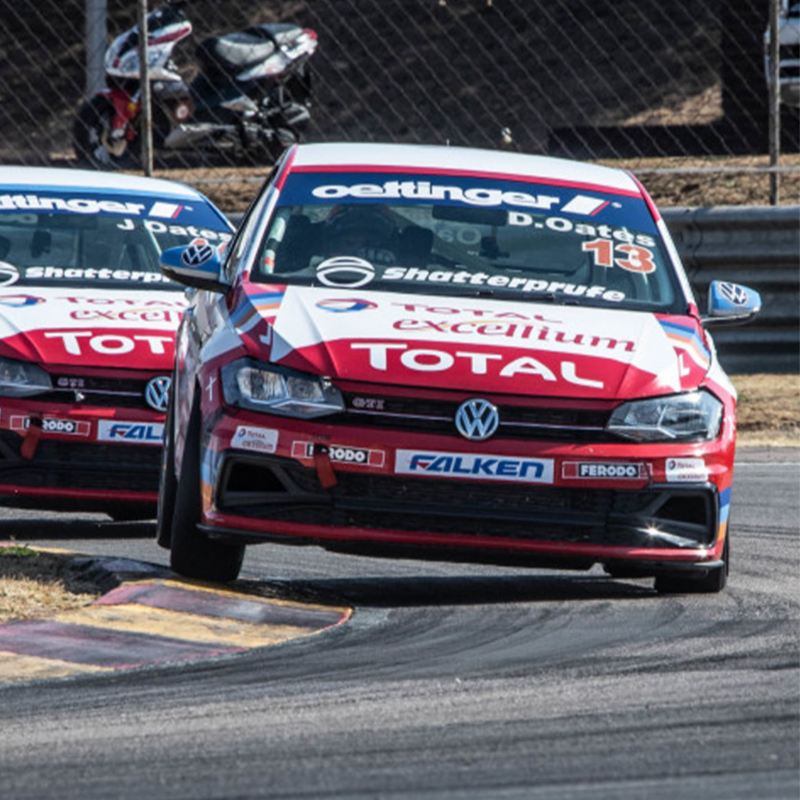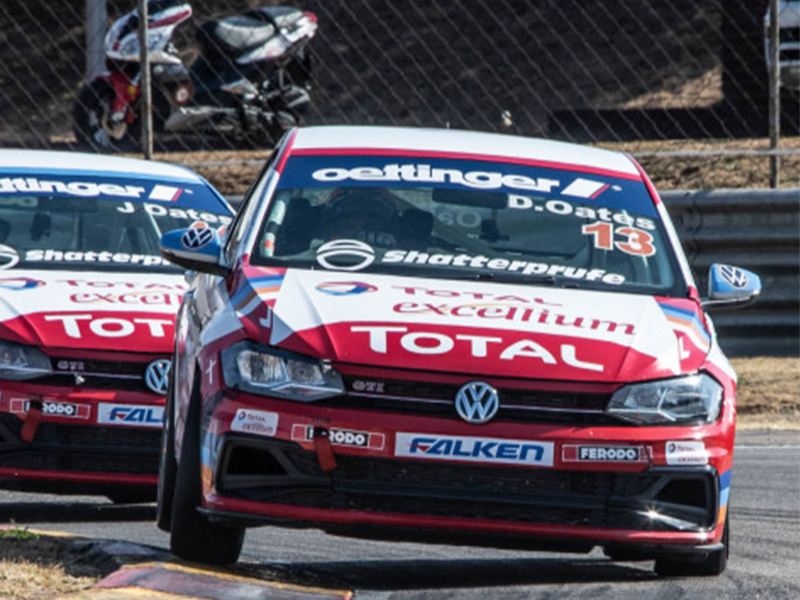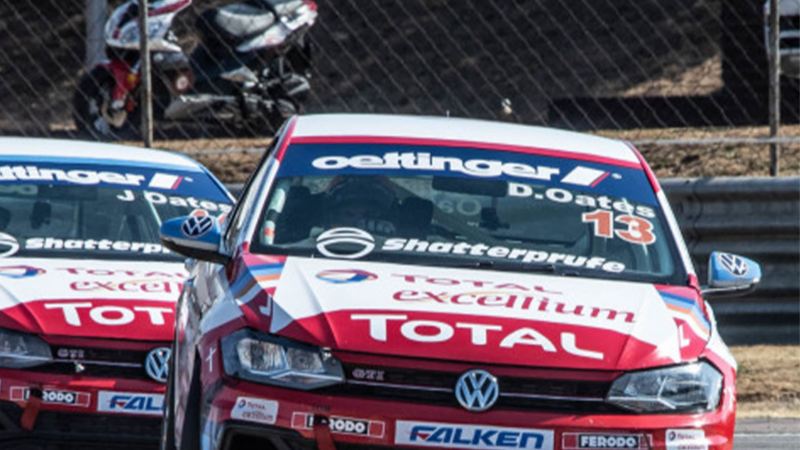 Oettinger
Polo Cup
back on track
Oettinger
Polo Cup
back on track
SA's most successful series resumed after five month break.

Zwartkops Raceway played host to a safe and responsible event as racing fraternity adheres to strict Covid-19 regulations and protocols.

Race wins each for Justin Oates and Dario Busi.

Busi maintains championship lead.

Volkswagen

Motorsport's Jonathan Mogotsi claims a podium in first ever SupaCup race.
Zwartkop - Pretoria. South Africa's motorsport fraternity, including everyone involved in the Oettinger Polo Cup,  safely returned to action for Round 2 of the National Extreme Festival at the Zwartkops Raceway to the west  of Pretoria. The stands may have been empty as a result of motorsport's Covid-19 compliance, but the action on track was as thrilling as ever.
Twenty of the country's youngest driving talents were more than eager to get back behind the wheel of their Volkswagen Polo GTIs after a full five-month break from the action. It soon became clear that they had lost none of their skills as a number of drivers were immediately on the pace following Friday's three practise sessions. 
"We as Volkswagen were delighted to have the opportunity to resume racing," commented Mike Rowe, head of Volkswagen Motorsport. "We respected all the protocols and regulations and took all the necessary steps to ensure that everyone in the Oettinger Polo Cup could race safely and responsibly. Having said that, it was good to see the masks come off while the helmets went on."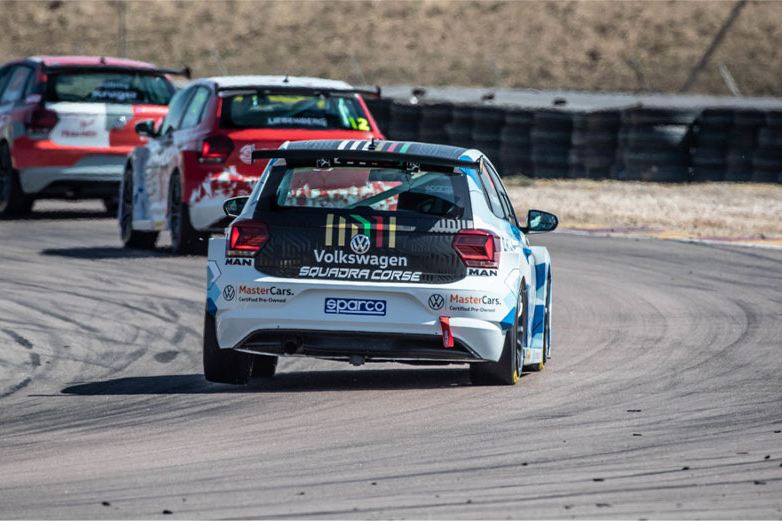 The Oettinger Polo Cup is renowned for always providing a great racing spectacle and as expected, the series once again lived up to expectations. Saturday morning's qualifying session was an indication of what was to come as the majority of the field was covered by only fractions of a second. After the 20 minute session, the six fastest drivers lined up for the all-important superpole session in which each driver gets one flying lap to determine the starting order. Kyalami karter Kwanda Mokoena did well to reach the superpole in only his second outing in the Polo, but the youngster had to be content with sixth position. 
He was pipped by another young karter in the form of Leyton Fourie who qualified fifth fastest in his debut event. Oates twin Darren was around one tenth of a second faster and claimed fourth on the grid. It took only two hundredths of a second to separate Capetonians Dario Busi and Jurie Swart in third and second respectively. This left the door open for the second Oates brother, Justin, to claim his first ever pole position.
Qualifying is extremely important as the Polos competing in the Oettinger Polo Cup are so evenly matched. When the lights turned green, Justin Oates made the best of his pole position as he emerged from the normal first-lap carnage with a slight lead in hand. The battle behind him got really heated with Dario Busi, winner of Round 1 earlier this year, muscling his way past fellow Capetonian Jurie Swart to take over the second position. Both Busi and Swart put big pressure on Oates at the front, but the twin brother resisted and held onto his lead. He crossed the finish line a full second ahead of Busi with Swart in hot pursuit. Chris Shorter was fourth over the line followed by Darren Oates and youngster Leyton Fourie who impressed in his debut race.